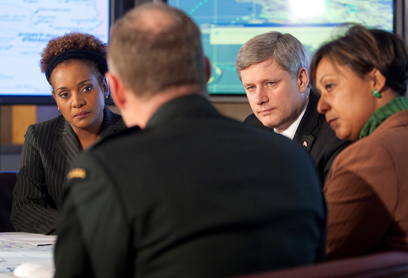 Constituents of Sarnia-Lambton,
I wish to extend my condolences to the island nation of Haiti and to Canadians that have family or loved ones who have been effected  by this event. They are all certainly in our thoughts and prayers. The Canadian Government is issuing a swift response to this urgent crisis and will provide international leadership in the humanitarian response that is now required from Canada and other global leaders. I will be updating my website to inform my constituents of any breaking government news in terms of the Government's response .
Currently, the Prime Minister is receiving in-depth briefings on this issue and has pledged assistance to Haiti.  The Cabinet, including Foreign Minister Lawrence Cannon, Public Safety Minister Peter van Loan, Minister of Defence Peter MacKay and Minister of the Americas Peter Kent all met in a series of high-level meetings on Wednesday to further discuss Canada's response – "Operation Hamlet". The  Government of Canada is working hard to ensure an appropriate emergency response is undertaken and that all Government agencies are able to coordinate their efforts in terms of humanitarian assistance in the devastated region of Haiti, which continues to be hit by aftershocks after the initial quake struck late in the afternoon on January 12.
My office has been monitoring this situation since it occurred and will remain steadfast in ensuring we are kept up to date on all aspects of the Canadian humanitarian mission that now begins in the aftermath of this terrible disaster.
For any constituents who are impacted by this event and may perhaps have family or other loved ones in Haiti, below you will find all emergency contact numbers applicable for this crisis.  The Canadian Government ensures that an experienced official is always able to respond to such emergencies.
Emergencies
http://www.voyage.gc.ca/contact/emergency_urgence-eng.asp
The Operations Centre of Foreign Affairs and International Trade Canada operates 24 hours a day, seven days a week. An experienced officer is always available to respond to emergency calls from anywhere in the world.
Emergency Contact Info
Canadian citizens outside Canada can call collect to (613) 996-8885 (where available).
For calls originating in Canada, call 1 800 267-6788 or (613) 944-6788.
In a number of countries, you can also call the 24/7 Operations Centre toll-free
You can also communicate with us via TTY by dialing
1 800 394-3472 (in Canada and the U.S.) or (613)944-1310
Contact us directly via our secure online e-mail form
You can also reach the Operations Centre by e-mail at: sos@international.gc.ca
Fax: (613) 943-1054
The Operations Centre receives approximately 190,000 calls a year, and is busiest in the early evening, Eastern Time. The Centre uses a modern Automatic Call Distribution system. Your call will be automatically sequenced and will be answered as quickly as possible in the order in which it entered the call-waiting queue. It may be necessary, due to a large number of incoming calls, to request that you leave a message. Please do so by listening carefully to the instructions on the voice-mail system and ensure you provide the area code and telephone number where you can be reached. An Operations Officer will return your call within 15 minutes.