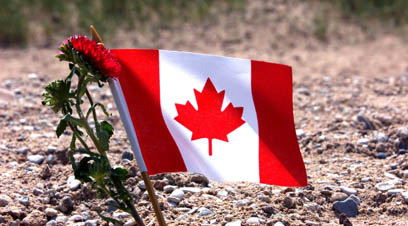 As the sun rose over the beaches of Normandy 65 years ago, Canadian Forces from land, air and sea came together on D-Day in the pursuit of freedom. By the time the sun set that day, the Canadians had progressed farther than any other Allied troops.
The Canadian triumph at D-Day and the Battle of Normandy was not without sacrifice. Of the more than 90,000 Canadians who served in the Battle of Normandy, more than 5,000 would lay down their lives defending the values of freedom, democracy and the rule of law that we cherish today.
Canada remembers June 6, 1944. Across Canada and at Juno Beach in France, Canadians will join together to salute our Veterans of D-Day and the Battle of Normandy whose contributions and sacrifices led to the end of the Second World War.
For a list of events in your community, and for information on events in France, visit www.vac-acc.gc.ca.

On June 6, Canada Remembers. Canada Remembers D-Day.